Description:
Hello I'm Scott from Denver, Colorado US of A. I've had my 1999 Isuzu VehiCross since 2012. Currently has about 190k miles on it with a slightly fresher 145k engine in it. It has been highly modified over the years I've owned it. It got to me in very worn and neglected condition so I immediately swapped out the slipping 4L30 auto trans for an AR-5 five speed manual, had the body painted and coated all the body cladding with Line-X bedliner. I pulled out the back seat which is all but useless in the VX and then put on bigger tires. Since then the modifications have just kept a coming. I removed the TOD transfer case in favor of a manual 2H, 4H, 4L TC with 3:1 gears installed giving me about a 55:1 crawl ratio. I went from the stock 29" tires to 31"s then 33"s and now she sits on 35"ers. Installed a custom storage box that fills the foot area in the back and provides a flat floor from behind the driver's seat to the back door. The most recent mod I've done is to cut open the back door and weld in a structure to allow for a oversized spare tire to be mounted. Living in Denver I have access to plenty of mountain trails of varying levels of difficulty. I also travel to Moab, Utah once a year to join up with likeminded Isuzu nuts.
Modifications and Accessories:
Suspension: 2.5 to 3 inches
Body Lift: 1 inch
Tyres/Wheels: 35x12.5x15 General Grabber X3
Traction Aids: LSD rear / ARB front air locker
Bullbar:
Spot lights and Lighting: 30" LED bar roof mounted
Communications/GPS: CB radio (common in US for off-roaders)
Dual Batteries: no, single
Engine: 3.5L V6
Exhaust: Stock
Sound system:
External: Roof rack, rear door spare tire mod, rock sliders, 9.5 ton winch
Internal: rear seat removed, custom rear foot well storage box
Pictures:
Before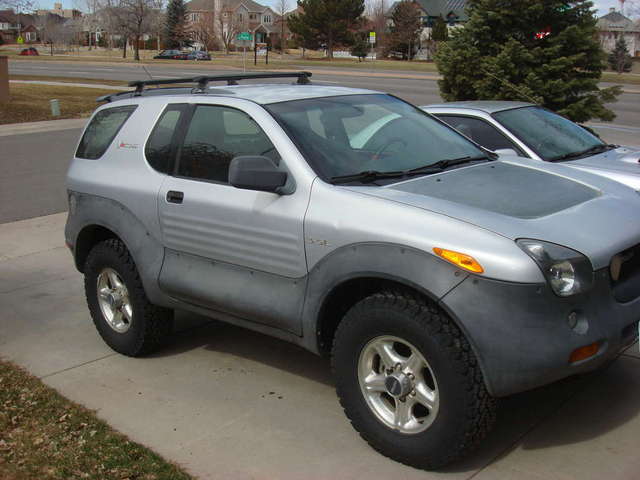 As she looks now.