PLEASE note that this is not a sales pitch, There are a number of other brand names (ARB, Detroit, Lock right and more) which may fit our 4WDs but I will only discuss LOKKA from 4wd systems as I have bought and install them in the front and rear diffs.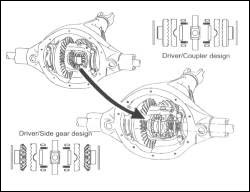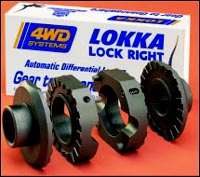 THE CONCEPT
An Autolocker is an automatic positive locking differential that delivers traction while still providing differential operation. (Referenced from 4wd systems)
A true Four Wheel Drive will have either/or/a combination of Front and Rear Autolockers/Airlockers as it delivers 100% of the drive train power to each wheel. Welding diffs Centers also achieves this but is not street legal.
If your car has open front and rear diffs (like mine did), even in 4WD your car is really only using 2 wheels to drive on and when one or both of those wheels is in the air or bogged then you in one or none wheel drive,.......
Here is link to 4WD systems (
http://www.4wdsystems.com.au/html/lokka.htm
) that will fully explain the concept of Autolockers, please read before asking questions about how it works.
4WD systems in South Australia have a Front Autolocker for a 10 bolt 17 spline isuzu diff and a Rear Autolocker for a 12 bolt 26 spline isuzu diff.
Ask for a "Club Price" as you are in the Isuzu club (E.g. when I ordered mine it was a touch cheaper than a Non club price, remember to ask for the postage costs.)
NOTE:
It is best that anyone who is after a locker to call and talk to them (whether it is front or rear) as some lockers only fits certain diffs. LSD and Drum brakes may/will incompatibilities but open diffs should be fine.
Call and find out first.
HANDLING
(Please note these are my own personal thoughts and may not be the same as others)
"A front Autolocker PULLs the car while a rear Autolockers PUSHes, this is the easiest way to remember how it works off road."
1. FRONT LOKKA
It is illegal to have an Autolocker in the front of a constant full time 4WD, but you can have an air locker.
Road handling
,.........YOU SHOULD NEVER HAVE THE FRONT AUTOLOCKERS WORKING or ENGAGE THE 4WD MODE/SELECTOR WHEN ON SEALED ROADS.
For manual Hubs cars, its best to disengage the 4WD selector and unlock the hubs.
For Auto Hubs cars, its best to disengage the 4WD selector and reverse backwards about 10 meters to ensure front hub have unlocked themselves.
Off ROAD
,....The front locker really makes a big difference especially when going uphill's, mud and sand due to its pulling effect.
Downhill's,...,... be warned that the extra weight of the car acting on the front lockers might if very unlucky, cause CV damage on very steep downhill's when the front end is sliding over drop offs etc under heavy braking. Also go nose first down a steep hill never sideways or else it's BYE BYE, R.I.P.
You will hear a clicking/clunking noise from the Autolocker when turning sharply, I prefer to disengage 4WD as this take some stress off the CVs while turning slow and sharp.
WARNING CV DAMAGE WILL OCCUR IF YOU DO NOT DRIVE ACCORDINGLY, you must remember that your CVs are the weakest link in your vehicles 4wding engineering. The best method with front Autolockers on hard rocky track is SLOW AND STEADY, try and prevent any front wheel spin. As soon as you lift the front of the car in the air and front wheels are spinning, you are risking breaking CVs when the wheels down hard against the ground if you used too much power.
2. REAR LOKKA
Sealed Road Handling
is great, actually its get up speed faster/more smoothly and holds its speed better while going up long hills.
Turns aren't too bad, smooth acceleration is the key and it doesn't lock on corners. Taking off hard and turning will lock the wheels in and it will chirp, this occurs easily when wet.
One negative,....it's noisy and loud when unlocking especially when parking. The noise is barely noticeable on long turns but the sharper and slower you take a turn/corner the LOUDER it gets.
Rear lockers are said to ease "wear and tear" on the wheel bearings and tires,....that's what I have heard?
Fuel economy looks like it has improved a touch in my opinion.
Off ROAD
,...it's made a HUGE difference and coupled with the front Autolocker,.......Yahoo